This page is a blog mirror of sorts. It pulls in articles from blog's feed and publishes them here (with a feed, too).
I was asked to prepare some stats on pkgsrc's growth, as part of the celebrations of pkgsrc-2016Q1, pkgsrc's fiftieth quarterly release.
This mail from 2004 says:
By my calculations, at the end of December 2003, there were 4310 packages in the NetBSD Packages Collection, up from 4170 the previous month, a rise of only 140. We also tagged a new branch for pkgsrc, which is being actively maintained - the branch is called "pkgsrc-2003Q4". As the name implies, we will be branching pkgsrc on a regular basis from now on, and maintaining the branch.
We had previously cut pkgsrc releases to coincide with NetBSD releases, and for some other events, but pkgsrc-2003Q4 can be seen as the first branch where pkgsrc was really its own entity. It can be checked out with the "pkgsrc-2003Q4" tag, and browsed at:
We keep a complete log of changes we have made to pkgsrc since its inception. At the lowest level, pkgsrc-2003Q4 had 3059 pkgsrc entries, whilst 2016Q1 had 14311 pkgsrc entries. Due to different versions of some languages, like python, perl, ruby and php, the number of packages is a much higher number. For instance, 2003Q4 had 4310 packages, and 2016Q1 had 17154. We have also provided a histogram of pkgsrc activity from its inception until now.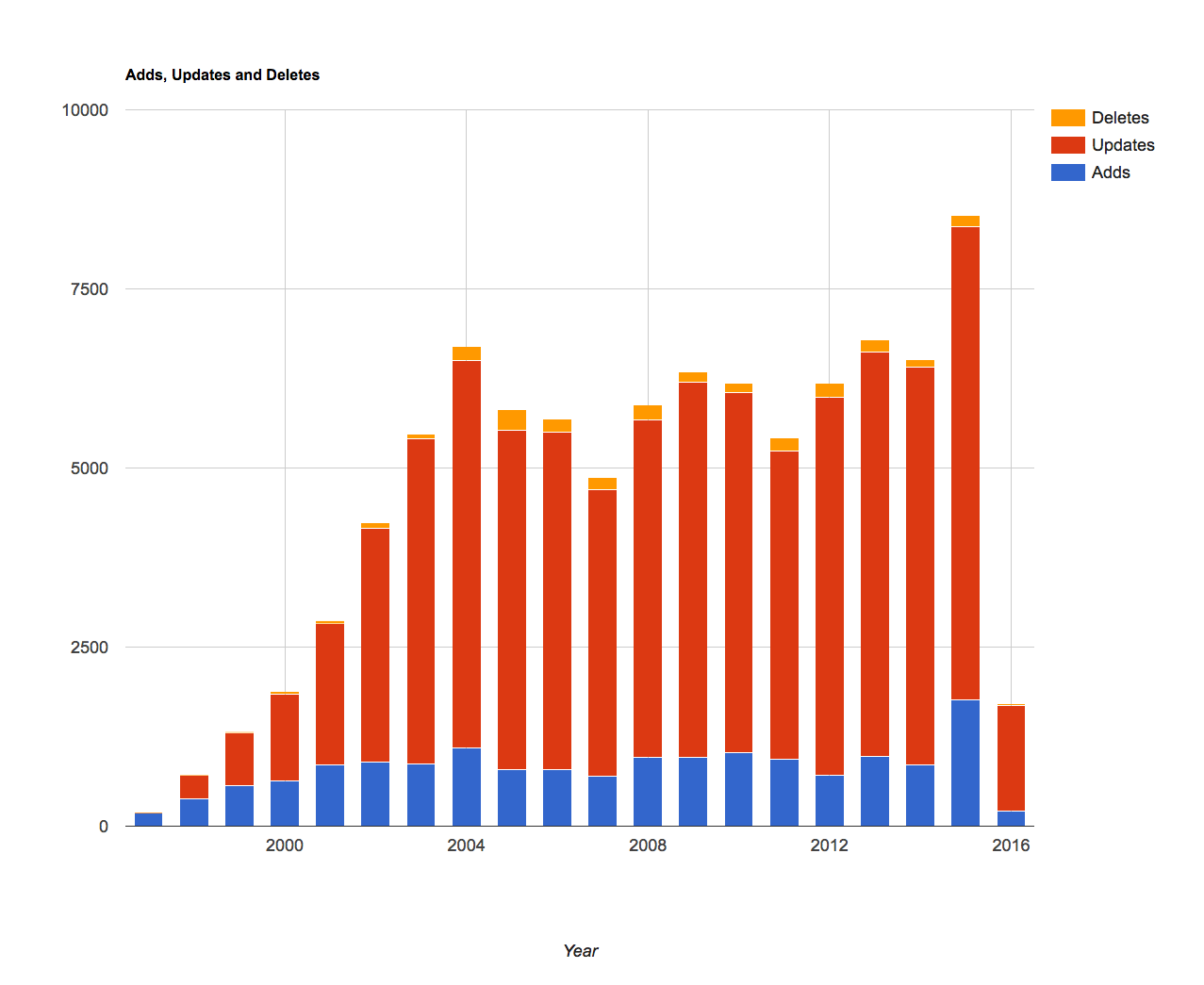 To see how pkgsrc has spread across platforms, 2003Q4 supported 7 platforms, 2016Q1 supports 23 platforms.
In addition, pkgsrc has now grown its own conference. The first pkgsrccon was in Vienna in 2004 -- see the original 2004 pkgsrccon information and this year's pkgsrccon is in Krakow -- see the 2016 pkgsrccon information We also produced a map of pkgsrccon venues for those interested in the history and geography of pkgsrccon.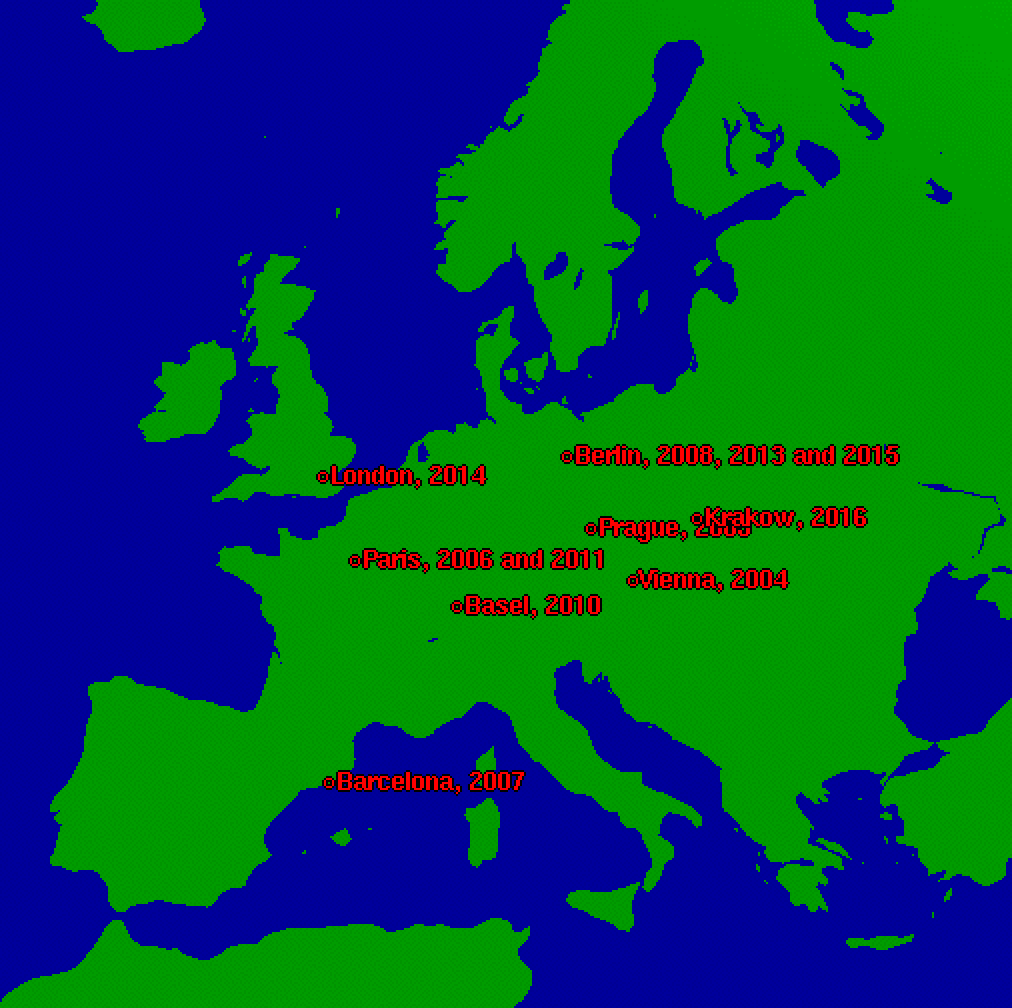 Alistair Crooks
for the pkgsrc team
Sun May 8 11:26:15 PDT 2016
And so it began...

revision 1.1
date: 1993-03-21 10:45:37 +0100; author: cgd; state: Exp;
branches: 1.1.1;

Initial revision

and we continue this legacy.


NetBSD would like to express our condolences on the passing of Ian Murdock.
He was one of the pillars of open-source software development and distribution, contributing much to the community as a whole. As is the nature of open-source software, ideas and processes are shared, intertwined, and constantly evolving as they are passed back and forth between projects.
We respect, and are grateful for what Ian did during his career.
Regards,
The NetBSD Foundation and developers

Last week I met with about 40 other developers from various projects (mostly Debian, but also Arch Linux, FreeBSD, Guix, Homebrew, MacPorts,
Tor
and some others) in Athens for a
three day conference about reproducible builds
, i.e. the task of getting the same binaries from the same source on a particular platform.
The advantages are better verifyability that the source code matches the binaries, thus addressing one of the many steps one has to check before trusting the software one runs.
We discussed various topics during the conference in small groups:
technical aspects (how to achieve this, how to cooperate over distributions, ...)
social aspects (how to argue for it with programmers, managers, lay people) financial aspects (how to get funding for such work)
lots of other stuff
For NetBSD, there are two parts:
Making the base system reproducible: a big part of the work for this has already been done, but there a number of open issues, visible e.g. in Debian's regularly scheduled test builds, up to the fact that this is not the default yet.
Making pkgsrc reproducible: This will be a huge task, since pkgsrc targets so many and diverse platforms. On the other hand, we have a very good framework below that that should help.
For giggles, I've compared the binary packages for png built on 7.99.22 and 7.99.23 (in my chrooted pbulk only though) and found that most differences were indeed only timestamps. So there's probably a lot of low-hanging fruit in this area as well.
If you want to help, here are some ideas:
check https://reproducible.debian.net/netbsd/netbsd.html for more issues, or do your own tests
discuss turning on MKREPRO by default
starting working on reproducibility in pkgsrc:

remove gzip time stamps from binary packages
use a fixed time stamp for files inside binary packages (perhaps depending on newest file in sources, or latest change in pkgsrc files for the pkg)
identify more of the issues, like how to get symbols ordered reproducible in binaries (look at shells/bash)
Thanks to the NetBSD developers who already worked on this before, and to TNF for funding the travel and the Linux Foundation for funding the accomodation for my participation in the conference, and Holger Levsen for inviting me.
In keeping with NetBSD's policy of supporting only the current (7.x) and next most recent (6.x) release majors, the release of NetBSD 7.0 marks the end of life for the 5.x branches. As in the past, a month of overlapping support is being provided in order to ease the migration to newer releases.
On November 9, the following branches will no longer be maintained:
netbsd-5-2
netbsd-5-1
netbsd-5
Furthermore:
There will be no more pullups to the branches (even for security issues)
There will be no security advisories made for any of the 5.x releases
The existing 5.x releases on ftp.NetBSD.org will be moved into /pub/NetBSD-archive/
We hope 7.0 serves you well!
The NetBSD Project is pleased to announce NetBSD 7.0, the fifteenth major release of the NetBSD operating system.
This release brings stability improvements, hundreds of bug fixes, and many new features. Some highlights of the NetBSD 7.0 release are:
DRM/KMS support brings accelerated graphics to x86 systems using modern Intel and Radeon devices.
Multiprocessor ARM support.
Support for many new ARM boards:

Raspberry Pi 2
ODROID-C1
BeagleBoard, BeagleBone, BeagleBone Black
MiraBox
Allwinner A20, A31: Cubieboard2, Cubietruck, Banana Pi, etc.
Freescale i.MX50, i.MX51: Kobo Touch, Netwalker
Xilinx Zynq: Parallella, ZedBoard

Major NPF improvements:

BPF with just-in-time (JIT) compilation by default.
Support for dynamic rules.
Support for static (stateless) NAT.
Support for IPv6-to-IPv6 Network Prefix Translation (NPTv6) as per RFC 6296.
Support for CDB based tables (uses perfect hashing and guarantees lock-free O(1) lookups).

Multiprocessor support in the USB subsystem.
blacklistd(8), a new daemon that integrates with packet filters to dynamically protect other network daemons such as ssh, named, and ftpd from network break-in attempts.
Numerous improvements in the handling of disk wedges (see dkctl(8) for information about wedges).
GPT support in sysinst via the extended partitioning menu.
Lua kernel scripting.
epoc32, a new port which supports Psion EPOC PDAs.
GCC 4.8.4, which brings support for C++11.
Optional fully BSD-licensed C/C++ runtime env: compiler_rt, libc++, libcxxrt.
For a more complete list of changes in NetBSD 7.0, see the release notes.
Complete source and binaries for NetBSD 7.0 are available for download at many sites around the world. A list of download sites providing FTP, AnonCVS, and other services may be found at http://www.NetBSD.org/mirrors/.
If NetBSD makes your life better, please consider making a donation to The NetBSD Foundation in order to support the continued development of this fine operating system. As a non-profit organization with no commercial backing, The NetBSD Foundation depends on donations from its users. Your donation helps us fund large development projects, cover operating expenses, and keep the servers alive. For information about donating, visit http://www.NetBSD.org/donations/
Recently my RKM MK68 machine arrived - a few NetBSD developers have got an engineering sample, kindly provided by Rikomagic, arranged by even more kind cooperation by Christophe Prévotaux from the Bitrig Project.
It is a nice, small 8 core 64 bit arm machine:
Rikomagic provided some documentation, and they have been nice and responsive to our questions for more, so full support for this nice piece of hardware should be a matter of time only.
It will require merging some changes for aarch64 that Matt Thomas already made, which also include a switch of mips to the generic pmap implementation - and unfortunately do not yet work on some mips variants.
I plan to use my machine, once it runs NetBSD, to do regular test runs (of course). But there are a lot of other things to do first, starting with soldering the serial console.
However, I am about to leave for EuroBSDCon 2015, so this will have to wait until next week.
P.S.: I am also still hoping for a 64bit tegra k1 based Chromebook (with free enough boot loader to run NetBSD). I need to replace my aging (huge and heavy) amd64 notebook finally!
If everything goes as planned, the pkgsrc-wip CVS repository will be converted to git and hosted on NetBSD.org by end of September.
In July we cleaned up the repository so it can be converted easily; since then we've been working on the infrastructure and details of the conversion. The main tasks are now finished. We have set up a server for it which hosts a preliminary git conversion (on wip.pkgsrc.org) of the CVS repository, created a mailing list for the commit messages, pkgsrc-wip-changes, and prepared a list of authors for the conversion.
We've also provided a conversion of pkgsrc-wip based on data from July so that it can be tested on (nearly) live data. If you are interested in beta-testing the setup, send a suggestion for a username and an SSH public key to me. Details on how to test are on the NetBSD wiki but will probably change some more over time.
We still need help for the conversion: if you are or were a wip contributor, please let me know by September 15 what name and email to use for the conversion from CVS to git. This conversion will not be done again, so after that date, the commit data will be final.
On behalf of the NetBSD release engineering team, it is my distinct pleasure to announce that the third release candidate of NetBSD 7.0 is now available for download. As the old Schoolhouse Rock song tells us, three is a magic number. We're hoping that RC3 will be the magic/last release candidate of 7.0.
Some of the changes since 7.0_RC2 are:
Add a resize_root boot operation (disabled by default). If resize_root=YES in rc.conf then the system attempts to resize the root file system to fill its partition prior to mounting read-write.
Enable SMP on Raspberry Pi 2.
evbarm: Rename beagleboard.img to armv7.img. The new image includes the same kernels as beagleboard.img plus support for Raspberry Pi 2, ODROID-C1, Cubieboard2, Cubietruck, Hummingbird A31, and Banana Pi.
evbarm: For armv7.img and rpi.img, enable support for auto-growing the SD card root filesystem.
Various DRMKMS stability improvements.
Avoid kernel panic on starting X on Intel 855GM machines. PR kern/49875.
Fix an uninitalized lock panic when trying to start a Xen kernel with LOCKDEBUG and more than one vcpu.
Fix an issue where x86 microcode updates could fail if memory was not 16 byte aligned.
Fix an IPFilter panic.
macppc: Fix ofwboot failure on PowerPC 603 machines.
OpenSSH: Apply fix for CVE-2015-5600.
Fix an issue where fsck_ffs didn't properly handle replaying a WAPBL journal on disks with non-DEV_BSIZE sectors.
Fix error in the setlist scripts that resulted in /bin/[ being missing from the base set. PR bin/50109.
Make libperfuse handle resource limits properly.
Make uplcom(4) suspend/resume.
Fix case where coretemp(4) didn't attach on some newer CPUs.
Avoid hanging on some machines after attaching ehci(4).
Fix crash on oboe(4) attach. PR port-i386/50076.
mountd(8): Write the correct pid is written to pidfile. PR bin/50125.
patch(1): Guard against malicious filenames and substitution commands.
patch(1): Drop SCCS support.
ypserv(8): When transferring a secure map to a slave server, don't lose the secure flag. PR bin/50057.
resize_ffs(8):

Make get_dev_size work on regular files too.
Add -c to check to see if grow/shrink is required.
Divide by DEV_BSIZE when returning size of file.
Handle case in grow() where last cylinder group is too small for ufs2.
Add a -p flag, which displays a progress bar.

disklabel(8): Fix a bug that resulted in sun2 liveimages being non-bootable.
Update libXi to 1.7.4.
Update BIND to 9.10.2-P3.
The full list of changes can be found near the bottom of http://ftp.NetBSD.org/pub/NetBSD/NetBSD-7.0_RC3/CHANGES-7.0
Binaries of NetBSD 7.0_RC3 are available for download at:
http://ftp.NetBSD.org/pub/NetBSD/NetBSD-7.0_RC3/
Those who prefer to build from source can either use the netbsd-7-0-RC3 tag or follow the netbsd-7 branch.
As always, please let us know how 7.0_RC3 works for you! Any feedback, whether good or bad, is welcome. Problems should be reported through the usual channels (submit a PR or write to the appropriate list). More general feedback is welcome at releng@NetBSD.org.