The fourth release candidate of NetBSD 6.1 is now available for download at: http://ftp.NetBSD.org/pub/NetBSD/NetBSD-6.1_RC4/. It is expected that this will be the final release candidate, with the official release following very soon.
(Please note that while the third release candidate (RC3) was tagged and built, it was never officially released)
NetBSD 6.1 will be the first feature update for the NetBSD 6 branch. There are many new drivers, some new features, and many bug fixes! Fixes since RC2 include:
Updated the fix for SA-2013-003 (RNG bug may result in weak cryptographic keys)
Fixes to npfctl(8) parsing and error handling
Raspberry Pi: fix handling of large packets in USB host controller
Fixed an RPC memory corruption issue. PR#13082
Change vax MAXPARTITION from 16 to 12, addressing boot issues on some systems
Bump libpthread minor version to libpthread.so.1.1 for the addition of pthread_cond_setclock() earlier in the 6.1 release cycle; note that this is *NOT* the same as libpthread.so.1.1 in NetBSD-current. (libpthread.so in NetBSD-current is already at version 1.2)
Provide libc stubs to libpthread, allowing libpthread to be dlopen()ed.
Fix a userland-triggered panic on x68k systems.
A complete list of changes can be found at:
http://ftp.NetBSD.org/pub/NetBSD/NetBSD-6.1_RC4/CHANGES-6.1
Please help us test this and any upcoming release candidates as much as possible. Remember, any feedback is good feedback. We'd love to hear from you, whether you've got a complaint or a compliment.
The NetBSD Project is pleased to announce NetBSD 6.1, the first feature update of the NetBSD 6 release branch. It represents a selected subset of fixes deemed important for security or stability reasons, as well as new features and enhancements.
Simultaneously, the NetBSD Project is pleased to announce NetBSD 6.0.2, the second security/bugfix update of the NetBSD 6.0 release branch. It represents a selected subset of fixes deemed important for security or stability reasons, without new features.
For more details, please see the 6.1 release notes and the 6.0.2 release notes
Complete source and binaries for NetBSD 6.1 and 6.0.2 are available for download at many sites around the world. A list of download sites providing FTP, AnonCVS, SUP, and other services may be found at
http://www.NetBSD.org/mirrors/
.
NetBSD works on the
BeagleBone
and improvements continue to happen, but we could use some help updating the docs. If you are using the port (or want to) make sure you email www with some improvements to the
BeagleBone wiki page.
I use a NetBSD/sparc64 machine (a dual sun blade 2500 silver) as desktop. Of course this sometimes requires me fixing some of the desktop software I use. Luckily, as a software developer, my requirements are quite simple and most software I need (editors, gimp, xsane, ...) just works.
One of the itching points used to be Firefox. Late in the Firefox 4.0 release cycle some changes landed in the mozilla main tree that broke it for sparc64 - and for a while no one knew how to fix it.
When lately I had the need to test a web app with all "strange" clients available (I even booted my macppc into MacOS and tried the ancient safari version) I noticed that my sparc64 firefox (3.6.28) was not usable for testing - firefox did not have websocket support back then, which the app I was testing needed.
I checked out the mozilla mercurial tree for the firefox alpha version, applied all pkgsrc patches (we lyhave plenty!) and modified the configuration to generate a debuggable version, and after surprisingly little effort I had it building.
Of course it did not run.
So I started to debugging it (which is not for the light hearted, as you can imagine). Thanks to some bank holiday plus additional bridge day off I used a long weekend and managed to get it running: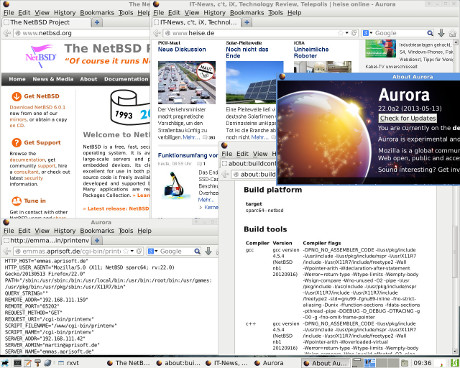 Then I tried to run my websocket app again, but it crashed imediately. So I fired up gdb one more time, and this time everything was fixed quickly. My app now runs fine (sorry, no pictures here, it is not yet public).
I filed all necessary changes as bugzilla tickets upstream and am working with the responsible maintainers to get them included.
This will be available in pkgsrc as soon as the official firefox 22 release is imported into pkgsrc.
The following projects have been chosen for Google Summer of Code™ this year (sorted by student's last name):
Port Linux's drm/kms/gem/i915
Student: Myron Aub
System upgrade
Student: gnrp
Implement file system flags to scrub data blocks before deletion
Student: Przemyslaw Sierocinski
Make NetBSD a supported guest OS under VirtualBox
Student: Haomai Wang
Defragmentation for FFS in NetBSD
Student: Manuel Wiesinger
We hope these students will have an interesting, successful, and also fun summer working with us, heap glory upon their names and do their mentors proud.

We thank all students who discussed and submitted proposals; as in every year, slots are limited and we have to let go worthy proposals.
NetBSD now includes support for Marvell Armada XP SoCs. The port was done by Semihalf and sponsored by Marvell, who have generously agreed to release the source code.
This work was integrated into the NetBSD/evbarm port. The kernel for Armada XP is built from the "ARMADAXP" configuration.
Currently supported hardware include Marvell DB-MV784MP-GP development boards. Adding support for more Armada XP-based boards should be relatively easy.
The port includes support for the PJ4B CPU core and most of the SoC's peripherals:
UART
SATA
PCI Express
I2C
SPI
USB
SMP and on-chip Ethernet are not supported yet (however it is possible to use a PCI Express based Ethernet card).